PROGRAMMABLE PROCESS MONITOR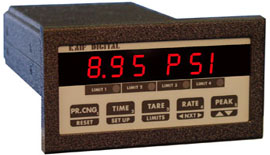 FEATURES
Front panel entry of Scaling, Offset and Tare.
Built in AC-line filter for harsh industrial environment.
Tracks min/max readings.
Three programmable alphabets for indicating engineering units e.g. PSI, yds, Ft etc.
Four limit relays for alarm or control.
Limits programmable as normally open, normally closed, latching or non latching.
Two timers with solid state outputs.
Security password for preventing unauthorized program changes.
Offers eight different display modes.
Saves prameters in EEPROM on power down.
Built-in buzzer to sound alarm.
Displays change in process signal.
Keeps track of process run time.
Constantly monitors rate of change.
Relay status indication.
Remote display hold capability.
Compact 1/8th DIN (cutout) enclosure.
SPECIFICATIONS
INPUT TYPE:
i) Loop Current: 4-20ma, 0-50ma
ii) Voltage: 0-5vdc, 0-10vdc
iii) Millivolt: 0-100millivolt
Other Inputs available: Consult Factory
ACCURACY:
Voltage = 0.05% FS Current = 0.05% FS
ANALOG TO DIGITAL CONVERSION:
20,000 count A/D converter
Dual slope integrating converter.
Conversion rate: Seven conversions/sec (typical)
DISPLAY:
Red 7-segment LED display, 0.39 inch height
Negative polarity and over-range indication.
Display test: 8.8.8.8.8.8.8. on power up
ELAPSED TIME:
Displayed in hours, minutes & seconds.
Display format: HH.MM.SS
POWER OPTION:
120VAC -- 60 Hz (Standard)
220VAC -- 50 HZ (Optional)
8VDC -- 12VDC @ 900ma (optional)
SCALE/OFFSET:
Scale programmable from 1 - 30000
Offset : 0 - 20.00 (current), 0 - 10.000 (voltage ),
0 - 100.0 (millivolt)
Decimal Point: 9999, 999.9, 99.99, 9.999
RELAY/OPEN COLLECTOR OUTPUT:
Relays: Single pole single throw, 1 amp @ 28vdc or 0.5 amp @120vac
Open Collector output: 100ma maximum (internal 5vdc source).
Outputs programmable as normally open , normally closed, latching or non latching.
RATE:
Displayed as rate of process change/minute.
DIMENSIONS:
Case: 3.60" x 1.75" x 8.5"
Bezel size: 4/40" x 2.25" x 0.45"