WALL-MOUNT 4 & 7 ZONE PROCESS CONTROLLER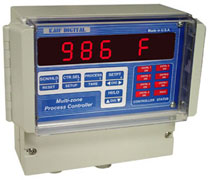 FEATURES
HIGHLY VERSATILE CONTROLLER
Four & Seven Zone Controller
On/Off, PID, Heat/Cool
7-Segment Ramp & Soak Profile

Independent Profile for Each Zone

Separate Control Settings for Each Zone

Manual Setpoint Entry for Each Zone

Indefinite Hold During Ramp
WIDE RANGE OF INPUTS
Four & Seven Input Models

Each Input Configurable from Front Keys

Thermocouples. RTDs, Thermistors

4-20 mA, 0-10 Vdc, Millivolts

Scaling for Millivolts, Voltage, & Current
HIGH VISIBILITY DISPLAY
Large 7-Segment LED Display (0.8")

Ease of Viewing from Distance

Better Visibility than Typical Panel Meters

Multiple Display Modes

Protection from Dust & Moisture

Sealed Lockable Enclosure with Clear
Plastic Front
DESCRIPTION
Housed in a wall mount, water tight plastic enclosure, the wMPC Series offers a highly versatile controller. The unit offers multiple control modes that are ideal for a full range of applications from complex to simple processes.
Input type for each zone is selected independently. Scaling and offset allows current and voltage signals to be converted and displayed in engineering units. Temperature from thermocouples, RTDs and thermistors can be displayed in degrees Centigrade or Fahrenheit. Additionally, each zone has its own ramp/soak profile with up to 7-segments.
ON/OFF as well as PID control is offered for optimum process stability. Processes that do not require tight control through complex tuning of PID parameters can be run under simple ON/OFF control. Each zone has its own set of ON/OFF and PID parameters and each zone can be programmed for heating or cooling. Setpoint deviation, positive as well as negative, can be viewed.
Additional functions include min/max reading for each zone, indefinite program hold, automatic scanning and displaying of different zones and three display modes (setpoint only, process only or both setpoint and process). Power, control, and process signal connections are conveniently made with Euro style plug-in connectors.
Each zone has a three digit long engineering label that can be programmed to indicate the type of process being controlled e.g. C or F for temperature, PSI for pressure etc. Every controller's run status is indicated by LEDS. Channel display time is also programmable.