PROGRAMMABLE TEMPERATURE CONTROLLER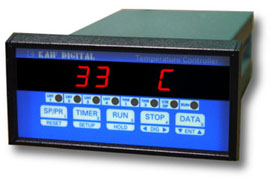 FEATURES
Ramp & soak controller with five user defined programs.
Up to 10 ramp/soak segments per Program.
Offers ON/OFF as well as PID control.
Wide range of inputs ... Thermocouples, RTD's, Thermistors, Voltage, Current & Millivolts.
Flexible scaling for Voltage, Current and Milli-volt signals.
Programmable heat/cool cycles.
Programmable hysteresis for ON/OFF control.
Displays temperature in degrees C or F
Tracks min/max readings.
Four limit relays for alarm (optional).
Two programmable timers (optional).
Offers manual set-point entry and indefinite program hold.
Indicates rate of change and has a rate alarm.
Security password for program changes.
Retains Program settings on power down.
Built-in buzzer to sound alarm.
Power line filter for high reliability
Keeps track of process run time.
Compact 1/8th DIN (cutout) enclosure.
SPECIFICATIONS
INPUT TYPE:
i) J,K,T,E,R,S,B, Thermistor, RTD ii) Voltage
iii) 4-20milliamp loop current iv) Milli-volt
CJC error: +/- 0.5 C (10C to 45c)
ACCURACY:
Resolution: 1C/F for T/C'S & rtd's.
0.1C/F for Thermistor
Voltage = 0.05% FS Current = 0.05% FS
A/D CONVERSION
20,000 count A/D converter
Conversion rate: 7/Second (typical)
DISPLAY
Red 7-segment LED display, 0.39" (10mm) Ht
Display test: 8.8.8.8.8.8.8. on power up
POWER OPTION
120Vac (60 Hz) - Standard 220Vac (50 Hz) - Optional
15VDC @ 900ma (Optional)
SCALE: Programmable from 1 - 30000
OFFSET:
0 - 20.00 (current input) 0 - 10.000 (voltage input),
0 - 100.00 (milli-volt input)
RATE: 0 - 500 Seconds
PROPORTIONAL BAND: 0 - 100% of span
RESET: 0.00 TO 50.00 repeats/ minute
ON/OFF DEADBAND: Programmable: 0-Fullscale
CONTROL OUTPUT:
5VDC drive @50ma max (internal 5vdc source).
SCALE/OFFSET (for voltage, current & milli-volt):
Scale programmable from 1 - 30000
Offset : 0 - 20.00 (current), 0 - 10.000 (voltage ),
0 - 100.0 (milli-volt)
DECIMAL POINT: None, 10th, 100th,1000th
OUTPUT (optional):
1.Open collector - 4 open collector outputs, maximum
sink capability of 50ma per output
2.Relays: Single pole single throw, 1 Amp @ 28Vdc or
0.5 Amp @ 120Vac resistive
Output termination: Euro-style plugable connector
RATE: Variable -- Displayed as rate of change/Time Base.
DIMENSIONS:
Case: 3.60" x 1.75" x 6.7" (7.3" including connectors)
Bezel size: 4.40" x 2.25" x 0.45"
Material: All Aluminium Enclosure.