PROGRAMMABLE COUNTER/RATE/FREQUENCY MONITOR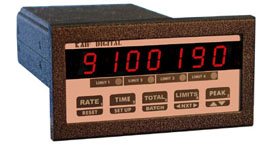 FEATURES
Up/down Counter, Rate, RPM and Frequency monitoring in a single unit.
Six different Counter modes with a max. count of 9,999,999.
Displays frequency in 0.01Hz resolution.
Programmable time base for rate.
Rate gain feature for faster rate update.
Flexible scaling allows the reading to be displayed in engineering units.
Works as a totalizer & batch counter.
Two programmable outputs for total & batch control.
Two limit relays for alarm or control.
Limit outputs programmable as normally open,normally closed, latching or non latching.
Two timers with solid state outputs.
Remote reset capability.
Tracks min/max readings.
Security password for program changes.
Retains user settings on power down.
Built-in buzzer to sound alarm.
Power line filter for high reliability
Keeps track of process run time.
Compact 1/8th DIN (cutout) enclosure.
SPECIFICATIONS
INPUT SIGNAL:
Input accepts pulses or square wave.
Schmitt trigger on input:
Input low = 0.0 Vdc, min. 0.6 Vdc, max.
Input high = 2.5 Vdc, min. 5.0 Vdc, max.
RPM/COUNT/RATE/FREQUENCY LIMITS:
RPM range: 1- 999,999 RPM
COUNT range: 1 - 9,999,999 counts
RATE range: Varies with time-base --- 9,999,999 max.
Rate Time base: 100 milliseconds to 9,999.999 seconds
Time base increment: 1 millisecond ( 0.001 second)
High frequency range: 2 Hz to 2 MHz
Resolution in high frequency mode = 1 Hz.
Low frequency range: 2.00 Hz to 5000.00 Hz.
Resolution in low frequency mode: 0.01 Hz.
DISPLAY:
Red 7-segment LED display, 0.39 inch (10mm) height
Display test: Briefly indicates 8.8.8.8.8.8.8. on power up
ELAPSED TIME:
Displayed in hours, minutes & seconds. Display format: HH.MM.SS
POWER OPTION:
120VAC -- 60 Hz (Standard)
220VAC -- 50 HZ (Optional)
8VDC -- 12VDC @ 900ma (optional)
RELAY/OPEN COLLECTOR OUTPUT:
1.Open collector - 4 open collector outputs, maximum sink capability of 50ma per output
2.Relays: Single pole single throw, 1 Amp @ 28Vdc or 0.5 Amp @ 120Vac resistive
Output termination: Euro-style plugable connector
Outputs programmable as normally open , normally closed, latching or non latching.
LIMIT DELAY TIMERS:
Programmable in seconds --- Max. time: 9999 seconds.
TIMERS:
Programmable in minutes --- Max. limit = 9999 minutes
DIMENSIONS:
Case: 3.60" x 1.75" x 6.7" (7.3" with Connectors)
Bezel size: 4.7" x 2.25" x 0.28"
All Aluminum enclosure.